Incident Report Forms
>>
Published 07/12/2022
SECURITY INCIDENT REPORTING

SYSTEM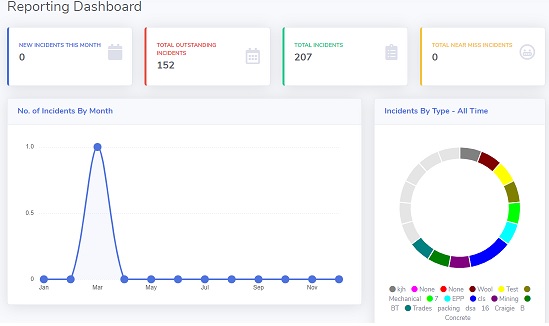 Security incident reporting is a critical component for ensuring all security incidents are captured, recorded and managed in the workplace. All types of security incidents should be recorded via security incident report form with follow up management involving the investigation, risk assessment, corrective actions and sign off. There are different types of security incidents such as IT security incidents involving a privacy or data breach through to physical security incidents involving theft or a security guard response.
Managing a security incident involves enabling the ability to capture what has happened so that all the important details can be captured at time of or straight after the occurrence and then following up with an investigation, actions and escalations as needed.
Security Incident Reporting Registry
With a security incident reporting registry, a record of all past and currently open security incidents allows you to view the previous details of the security incident, its status, its outcome, the investigation and most importantly, be able to analyse its trends, causes and risks.
Maintain a registry of open security incidents, establish investigations, escalations and corrective actions before moving to a close incident status.
Security Incident Report forms
There can be different types of security incidents and setting up specific report forms for each type is important to ensure you capture the specific fields and information relating to each security form type. For example criminal activity security incident versus a security breach or a security risk report.
- IT Security Incidents: these refer to security breaches, hacking, ransomware, privacy breaches and other IT security incidents
- Security on site incidents where there has been a theft, stolen property, intrusion, trespassing or incident involving security guard response
With IT security incidents, these are used to used to describe a security-related incident that has taken place. It is used to document the details of the incident, including the circumstances, the actions taken, and the outcomes. A security incident report is an important tool for organizations to track, analyze, and respond to security incidents.
Some of the steps for managing a security incident include:
- Establish an incident response team: An incident response team should be established to address the security incident. This team should include representatives from the security, IT, legal, and communications departments.
- Gather relevant information: Collect all relevant information related to the incident, such as emails, system logs, network traffic logs, and more.
- Analyze the data: Analyze the data gathered to identify the cause of the incident and its impact.
- Develop an action plan: Develop an action plan to address the incident and prevent similar incidents in the future.
- Implement the action plan: Implement the action plan and monitor its effectiveness.
- Report the results: Report the results of the incident response process to relevant stakeholders.
Mobile or Tablet
With staff in the field and on site or during an event, its important that they have the tools readily available to report a security incident, as it happens. Capturing the details when discovered or at occurrence and taken down immediate details, capturing photographic evidence and more.
Example Security Incident Report Form
Try scanning the QR code!

BEST PRACTICE SECURITY INCIDENT REPORTING

DESIGN

For an overview of a good security incident reporting system workflow, we've detailed below the four core elements to include.
Live Report Forms
Arming front line workers with the ability to report incidents as they happen or are discovered. Mobile based incident reporting being the best way to implement this.
Live Security Registries
Real time registries rather than static ones. Ensure that the registry of security incidents reflects what's actually happening and is live and up to date.



Multiple Security Incident Forms
For all types of security incidents, injuries, property damage, criminal activity and risks
Generate Reporting and Metrics
Deep dive into security causes and trends
CREATE YOUR OWN SECURITY REPORTING

FORMS

No two organisations are the same, it's important that security incident report forms reflect your specific workplace, your specific fields and custom requirements. Using our special security report form builder, you can create your own custom security incident report forms. Alternatively, we've got a library of templates to click and pick from.
EXAMPLE SECURITY INCIDENT REPORT

USE CASES

Security incident reports vary in type and purpose, some common examples include:

- IT security breach where you have a security incident response management process, the ability for staff to report a suspected breach, a near miss, a data breach or even for a client to view and understand the incident

- Property security breach where there has been a breach of security at a facility

- Security incident on site which might have involved a patrol or security guard and their response, documenting the incident or a police report
CREATING DIFFERENT SECURITY INCIDENT REPORT

WORKFLOWS

Commonly as part of logging an incident report, you will establish different follow on workflows and forms to be completed once an initial security incident has been reported. For example, additional forms might be mandatory such as an investigation, a corrective action or even risk controls and sign off forms. This enables and ensures a consistent incident workflow and process that is followed every time a security incident is logged. It might also include various levels of notification depending on escalations and severity of the incident. Every organisation and workplace is different and having the flexibility to setup different bespoke workflows for your security incident reporting is critical. Different sites and organisation requirements will require unique workflows, you might have different styles of security incident reports too from cyber security through to physical security which require different incident outcomes when a report is made.

Example custom security incident report workflow
SECURITY INCIDENT REPORTING

PLATFORM

Try out the demo above and see how your security incident report form process looks via our dedicated incident reporting platform. You can also access our form library of report form templates, see sample fields and more.