INCIDENT REPORTING

APP
Ranked number one on the app store for 'Incident Reporting', download and report incidents as they happen on site and in the field. Enable your staff to capture incidents in real-time, capture a photo, record the details and submit to relevant workplace contacts.
Submit all type of incident forms
Report all types of incidents such as injury or illness incidents, security incidents, property damage, near misses, safety observations, corrective actions and hazards.
Assign to team members
Assign to team members with live notifications and escalations, submit corrective actions and even options to create custom created incident forms and more
Mobile or Tablet
Available on both Apple and Android.
A traditional workplace process for an incident report is that when an incident happens, the details will be reported to a safety officer who then records it onto their incident management system. With an
incident reporting app
the staff on the front line can report incidents straight from their phone or tablet, as they happen. Capture photos, record the details, in their own words, at the time of the incident, as it happened! Collect witness statements and record critical details as of the incident occurrence itself.
Download from the app store


LIVE INCIDENT REPORTING

APP

Nothing beats the truth, enabling your staff, contractors and even visitors to record what happened, when it happened can ensure that the full incident is captured as it happened. Photos, witness statements, ensure that every type of incident is recorded, all from the incident reporting app.
Live
How much more real-time can you get than when the incident happens!
Mobile
Incident Reporting App on iPhone and Android



Incident Forms
For all types of incidents, injuries, property damage, security, illness, near miss
Generate Reporting and Metrics
Deep dive into causes and trends
CREATE YOUR OWN REPORTING

FORMS

The best part of the incident reporting app is that you can launch your own custom forms on it. Every organisation has different requirements, create your own custom incident report form fields so that staff can submit the site specific information you actually need to capture, specific to your sites, departments and roles.
EASY TO

CAPTURE INCIDENTS

It's never been easier for staff, everyone has a smart phone in their pockets, all they need to do is load the app and capture the incident as it happens. Ensure all role types are incident ready and armed with the app, including all employee types, contractors and visitors.
AVAILABLE SINCE

2012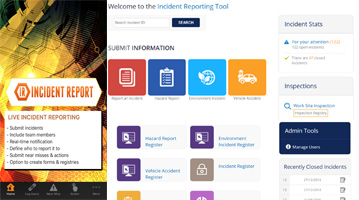 Use the app that's established and first launched in 2012!
Ranked #1 on the App store when searching Incident Reporting
Used by thousands across the planet for managing incident reports
Free to download on IOS or Android for tablet or phone
We are constantly releasing new features and updates to give you the very latest in incident reporting technology