INCIDENT REPORT

FORM TEMPLATE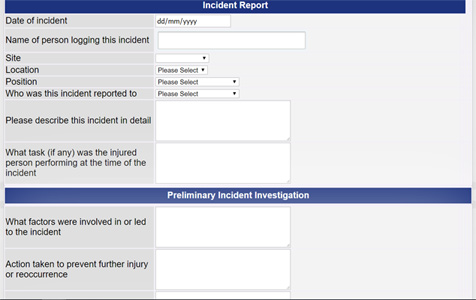 For a best practice
incident report form
, its important to make sure you are capturing several core categories of information for a full and complete picture of an incident in order to be able to implement additional follow on processes such as corrective actions, hazard reports and investigations. The below is a break down of those categories, covering several major field types to include on an incident report form. These areas apply to different types of incident report forms such as an injury or illness, property damage, environmental, near miss or security incident just to name a few.
Initial Incident Information
In this section you record the basics of what happened and contact details collecting fields such as:
- Site
- Region
- Date of incident
- Time
- Department
- Date Lodged
- Exact Location
- Name of person logging this incident
- Position
- Who was this incident reported to?
- Reported by?
- Did they witness the incident?
- Describe the incident in detail
- What task was the injured person doing?
- What factors were involved that led to the incident
- Any immediate actions
- Further actions required?
Incident details
This is where the guts of the incident is recorded, mapping out what led to it, the finer details of what happened and categorising the type of incident that has occurred. Here you would capture fields such as:
- Incident severity
- Any lost work time?
- Name
- Role/position
- Employment status
- Gender
- Age
- Address
- Phone
- Body part injured
- Mechanism of injury
- Nature of injury
- Description of injury
- Initial treatment
- Staff status
Notification
In this final category, we go through what level of notification is required for this incident:
- Does this incident need to be escalated - Is this a notifiable incident? - Was a police report made? - Police report details - Other notifications
TRY CREATING YOUR OWN

INCIDENT REPORT FORM

Using our incident report form builder and template library, you can either pick an existing incident report form template and customise its fields to suit your organisations requirements or you can build your own incident report form from scratch. Try it out and see how easy it is to create an incident report form! Dr Jeremy Nunn Founder, CEO DIT, MSc (IT), BSc (IS) M: 0405 096 880 E: jeremy@workmetrics.com W: www.workmetrics.com W: www.onlineinduction.com Level 32, Central Park. 152-158 St Georges Terrace, Perth WA 6000 Creators of OnlineInduction.com & IncidentReport.net